Hi my readres!
This week I've been working with
Calameo
, an aplication used for magazines, presentations, graphics... And in this timeI have use it to do a picture dictionary for kids. More concretely a animal picture dictionary. But before starting searching and choosing pictures from internet, our teacher explain us the meaning of Creative Commons. Do you know what is that?
Creative Commons helps you legally share your knowledge and creativity to build a more equitable, accessible, and innovative world. We unlock the full potential of the internet to drive a new era of development, growth and productivity.
With a network of staff, board, and affiliates around the world, Creative Commons provides free, easy-to-use copyright licenses to make a simple and standardized way to give the public permission to share and use your creative work–on conditions of your choice.
So taking into account this aspect all the images I have used in the picture dictionary are CCo.
Here is an image which sows different types of creative commons.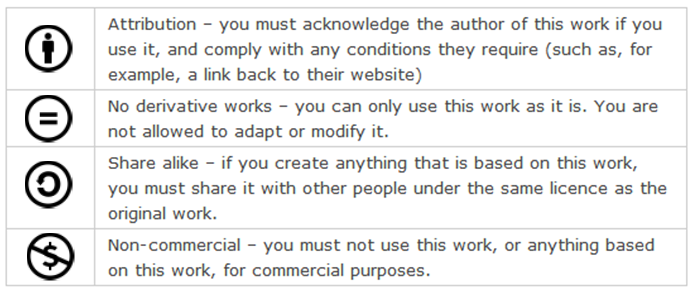 I hope this information will be usefull.
Bye!
Animal Picture Dictionary